Before heading off to Germany, the Netherlands and France last September, I spent some time in Poland with my family. It rained pretty much non-stop. While this dampened our spirits a little, it's hard to be miserable when you're surrounded by so much beautiful architecture.
While Warsaw has the edge for bright, quirky buildings, overall I definitely preferred Krakow. Despite not being the capital, it definitely reigns supreme for the city in Poland with the most things to do. We had five nights there and still didn't get enough done! You could easily spend a week here as it is the jumping off point for trips to Auschwitz and the Wieliczka Salt Mines, but if you only have 48 hours and want to stay confined to the city, then here's what to do..
WHERE TO STAY
One World Hostel. It's spacious, modern, centrally located and breakfast is included. Prices start at ~£6 for a standard 12 people mixed dorm in low season, ~£9 for the same in high season. Book in advance as it fills up quickly (most days in August 2019 are already sold out!)
TIME DIFFERENCE
GMT+1
GETTING AROUND
Most people prefer to explore the city on foot, as everything is pretty much in walking distance. There is also a great tram network if walking isn't your thing. Vistula river runs through Krakow, and most sights are based to the north of it. Venturing south is worth it though, as this is where museums like Schindler's Factory are based. 
GETTING THERE
You can grab direct flights with EasyJet or RyanAir. Cheapest to fly from London. Typically around ~£150 return in high season and ~£99 return in low season. Flying time 2 hours 25 minutes.
CURRENCY
Polish Złoty
DAY 1
Arrive early and drop your bags off at the hostel. Then, head to Stare Miasto (the old town) which is only a 5-minute walk away. The entire old town has been designated a UNESCO world heritage site. It is beautiful and its square has the world's oldest shopping mall (dating back to 1555!) along with other stunning buildings to explore like St Mary's Basilica and the Cloth Hall.
Then, make your way to Wawel hill where the Wawel Royal Castle and Wawel Cathedral are located. They offer multiple tours of the Castle, the apartments and other aspects of the complex. Either book on to the next tour, or if they are fully booked for that day, then put your name down for the following day. If you are by yourself you are entitled to free entry on Sundays from December 1st until March! We did the guided tour of Wawel Royal Castle but in all honesty, I didn't rate it that much.  I thought wandering around the grounds was more interesting, especially admiring the cathedral which contains the supposed bones of a dragon.
When you've finished up here, head down to the Kazimierz (the old Jewish Quarter). Head to Zupa Bar to grab something for a quick, cheap lunch. Soup is a huge deal in Poland and nowhere does it quite like they do. Then explore the surroundings. Kazimierz is a very hip area, brimming with lots of street art and antique shops.
It is also home to a string of synagogues and museums. A must-visit is the Galicia Jewish Museum. It celebrates Jewish culture and history in Krakow, and southeast Poland,  through physical remnants and a photo exhibition. It also pays homage to victims of the Holocaust.
Kazimierz is one of the best districts to eat in the city. Grab dinner at Pirozki U Vicenta (Vincent Peronist) to sample another food staple in Poland − dumplings!
We ordered a mixture of savoury (one platter of cheese dumplings and one platter of mixed veggies dumplings) and sweet (pear and cinnamon) and they were unreal.
Krakow often surprises people with its wide selection of nightlife, although like many other European cities, it mainly comes alive during the weekend. Most of the bars and clubs are clustered in the old town, on the streets Floriańska and Szewska. Tram Bar is a cool place for a drink, some of its seats are taken from old trams, and old maps are plastered on the walls.
DAY 2
If arranged, spend the morning undertaking your tour of the Castle grounds or tying up loose ends in the Old Town. There are so many little streets to get lost down, so it pays to have a couple of hours to wander aimlessly. Krakow has a strong cafe culture, and Cafe Camelot is particularly quirky and wholesome.  The decor is romantic, there is a huge selection of hot chocolates, their apple pie is famous and they offer an all-day breakfast.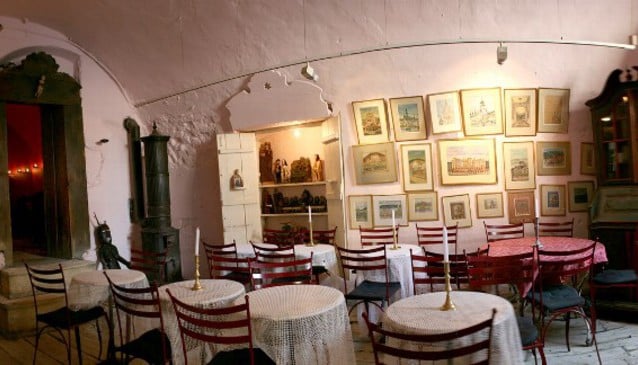 Then, take your pick of Krakow's museums! The National Museum is a good place to start and is home to Leonardo Da Vinci's Lady with an Ermine. South of the river you can find other gems like Schindler's Factory or Krakow's Museum of Contemporary Art.
This side of town also harbours the more harrowing remains of the wartime Jewish ghetto wall from WWII. There is also a poignant art installation depicting 68 chairs in the centre of Heroes Square. Each chair represents 1,000 Jews who were victims of the ghetto. The square was a place of execution, somewhere to organise departures to concentration camps and the entire ghetto was eventually liquidated. The empty chairs also symbolise the fact that they weren't allowed to bring their belongings with them when they were forced to leave their homes behind.
For your last evening, head to Glonojad for dinner. Here, you can get vegetarian takes on traditional Polish dishes like Goulash. They also have a variety of other dishes from all over the world, and all are reasonably priced.
Then, either head back to Floriańska and Szewska for your pick of bars. Another one I liked was Ambasada Sledzia, a place where locals combine their love of vodka and herrings. If the alcohol makes you peckish, this is the place for Polish tapas, or you can stick to the cherry vodka.